Today is 18th November and exactly 40 years since one of the greatest designers has passed away. Let us celebrate his work that we still love and adore to this day. Let us introduce you to Jindrich Halabala. One of the icons of the Czechoslovakian design in the beginning of the 20th century.
Becoming a designer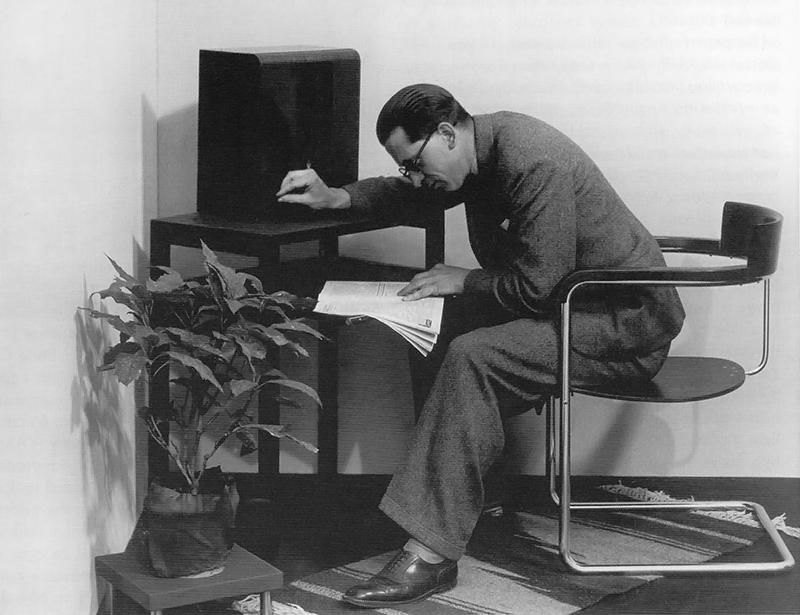 Jindrich Halabala (24th May 1903 - 18th November 1978) was born in Czechoslovakia as a son of a carpenter. His father used to work in USA and was the first one to teach his son everything he knew about wood and carpentry. He taught him the old techniques that Halabala later used in many of his own works. Halabala loved wood and knew that furniture making is going to be his life. He finished wood carpentery school and later studied an archtechture school in Prague with the specialization in furniture design.
He got a job in UP Zavody in 1928. UP Zavody was a State owned furniture company, the biggest in Czechoslovakia. After Halabala finished his studies, he presented his first scetches of new furniture line to the director of UP Zavody Jan Vaněk. Only two years later he was named the art director of the main atelier of UP Zavody and moved with his family to Brno, the base of UP Zavody. Halabala stayed in Brno until 1946.
Creativity unleashed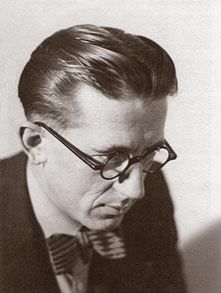 He was only 27 when he took the atelier in his hands. His mind was full of ideas and a whole new revolution started. His designs were unconventional, new and fresh. He loved to work with wood and use it in unconventional ways. Halabala´s style is unique. He adored flowing lines and lightness. But always keeping in mind the stability and quality of the product. That is why even now, almost 100 years since some of his furniture was created, the items still stay strong, fit for purpose and sound in construction.
"A chair is the testing stone for any artist, constructer and a carpenter. Therefore it can never become an artistic horror."
This was said byHalabala in one of his many articles. His utmost focus was always on the comfort of his designs. He believed the seating furniture should copy the shape of human body and helpt it to relax.
He did not think armchairs should be too big. As then the person changes position in the armchair too often and can never relax properly. The purpose of his seating line was always clear. That is why he created models for relaxation, and models for office or work time. He was very specific about the designs and cared about the smallest details. He created full sets of furniture. The chairs, armchairs, tables, coffeetables and bigger pieces like sideboards and credenzas.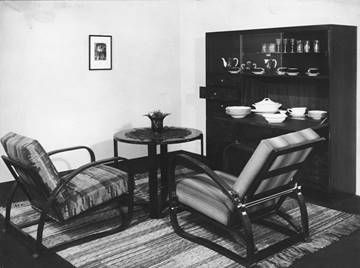 Halabala created designs for tables, armchairs, dressers, sideboards, chairs and carpets. Offices, bedrooms or dining rooms. Every room could have been furnished by his stylish pieces. Today, most of the people are familiar with his seating line, especially the H line. They are very strong and very comfortable. Yet they look light and airy.
Halabala loved wood, but he also produced designs for the bended chrome pipe seating furniture. This line started in 1930s and consisted of 20 models. His belief was always the same.
"A good metal chair must be made almost without any connections. It has to be made out of single chrome pipe, then it is practically indestructable. And only then we can also use all the qualities of steel to its full potential- strenght, flexibility and plasticity"
Halabala was also very specific about how his furniture was supposed to be sold in shops and how it was to be presented to clients. All the shops of UP Zavody looked like homes. They were fully furnished with plants, lights, carpets, bedding. People did not come to buy the furniture, they came to buy the feeling these completely furnished interiors offered. Furniture was never just an item for him. He always cared about how it fits in the whole interior. And he was not a fan of mass production.
In his later years, Halabala left the UP Zavody company. Some say he did not aprove of the mass production that started to take on. He worked as a professor and taught furniture design at several Universities in Czechoslovakia. He retired in 1970. He was working on the storage furniture ideas in his last years. These designs were never published. Halabala passed away before he finished it. Rest of his amazing work still lives on.
Most famous Halabala designs
Armchair H-269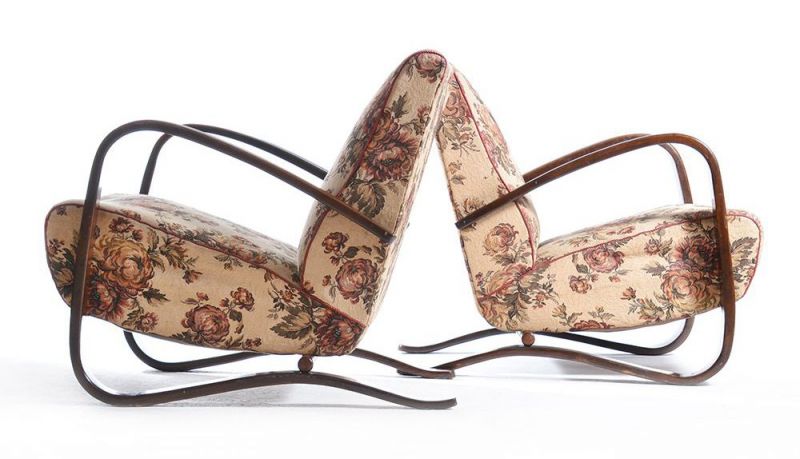 The most progressive model of the H series produced from 1928-1935. The armrests are made of bended wood into the shape of alpha letter. These are connected with a wooden pole under the seat. Seat sits on the construction as a one piece. The lines of the armrests are flowing easily.
The model was considered aerodinamical. It did not fit into the Art decó style of the era, neither did it fit into the functionalism design era which followed in the later years. The creation of this model was supposedly almost like sculture-making. The long process took a lot of time and trials. But the results are amazing and these great chairs are still considered one of a kind, even today.
Armchair H-70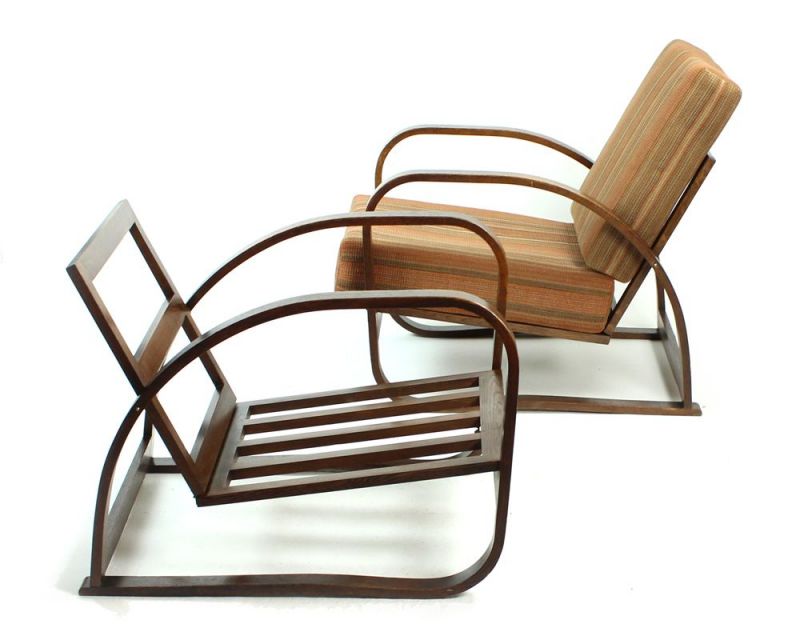 Elegant, but very practical armchair. Simple, yet technologically the most difficult to make and design. H-70 are considered one of the best Halabala works. Made of bended oak wood with adjustable seating. There were several options of adjusting the armchair. Either with the steel pipes, by the system under the seat, or by the weight of the person sitting on the chair. There are not many of these chairs around anymore. Therefore the model is considered rare and valuable.
Dining Chairs H-214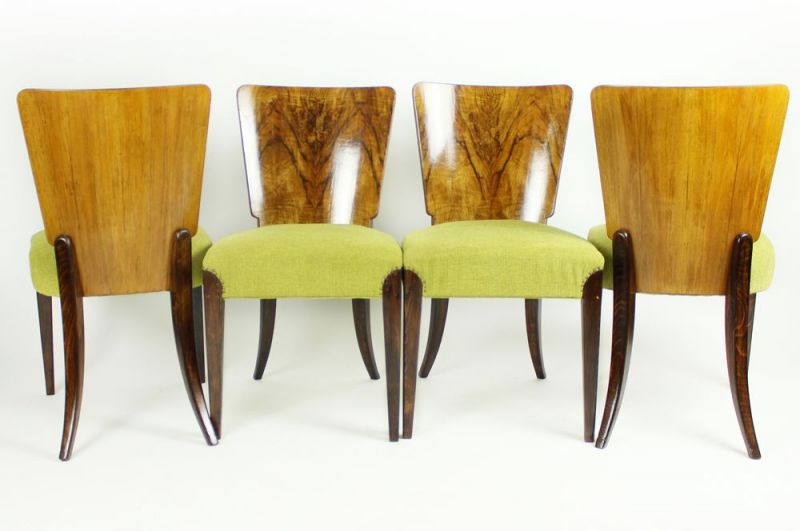 H-214 chairs were considered one of the best designs for te dining chairs of the atelier at UP Zavody. Not only because of their lines, but also because of its strenght and comfort of sitting. The seat is held by straight front legs, the back legs are curved in a sword-like manner. The back legs connect to the backrest very elegantly.
Our Halabala selection
We love the style of Halabala and therefore we have a large collection of his items. Check them out.
Chrome armchairs
Bended wood Armchairs
Dining chairs
Coffee Tables